Give last-minute shoppers the gift of assistance and unbeatable convenience this holiday season.
The holiday shopping season is predicted to be remarkable, with early buying activity and sales records to be broken. But difficulties lurk this season, many of them brought on by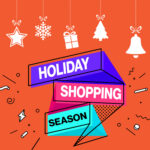 the tight supply chain we've all heard so much about. These difficulties range from delivery delays to inventory shortages to labor shortages. 
Last-minute holiday shoppers will be disproportionately affected by such obstacles. Despite an earlier start to holiday shopping, 94% of US shoppers say they still have gifts to purchase, and 64% say they still need to decide what to give them.
Here are some crucial holiday shopping trends and advice to assist you in getting ready for the rush and helping add value to customers concerned they might miss out on the ideal gift.
Avoid inventory issues
Almost half of US holiday shoppers must have finished their shopping by November. Given this, it should be no surprise that one of the main criteria determining whether customers choose to shop with a particular retailer is the availability of the products. Around 30% of customers worry that things they want could run out of supply, and more than 50% of Christmas buyers say they would check online to see if an item is in stock before going to buy it. However, they only sometimes discover the data they require. The majority of US holiday shoppers, around 37%, agree that inventory information should be shared by retail stores more effectively.
The fact that you have things in stock that clients can't get anywhere else this year may indicate that inventory is scarce. When you know what consumers are looking for, you can utilize analytics like customer interest insights and then employ automation tools like Smart Shopping campaigns to take advantage of the rising demand for in-demand goods.
Last-minute buyers may search for other choices, like gift cards or experiences, if an item is out of stock. The week before Christmas has historically been when "gift cards" search interest peaks, and this year, with additional inventory issues, it's been anticipated more of these queries.
Share shipping deadlines
Shipping is going to be on customers' minds – especially the purchase deadlines guaranteeing arrival before Christmas.
To give customers who require delivery before Christmas a sense of urgency and peace of mind, ensure that "order by" information is prominently displayed on your website or mobile app. By including shipping comments like "Free delivery by Friday, 23 December" or "3-day shipping" on both free and paid listings, you may further assist consumers searching for your items. When the three-day shipping remark is applied, the click-through rate for free items has already increased by almost 10%.
Highlight in-store shopping options
More individuals will look for gifts locally as holiday shipping deadlines get near. As evidence, research for "gift stores near me" has grown by 60% since 2020.
According to Salesforce, in the five days before Christmas in 2020, sales at retailers that offered curbside, drive-through, and in-store pickup increased by 54% year over year, compared to 34% of retailers who did not.
Ensure the fulfillment choices are indicated on your websites and that your business hours are current. Reach additional nearby shoppers with helpful information about your local store with tools like local campaigns that let you highlight products available in your store and pickup options.
Shopping doesn't end with Christmas, so keep the lights on
While Christmas Eve sees a frenzy of last-minute buying, it continues. On Christmas Day in the past, "holiday returns" search interest peaked, and in the following weeks, interest in shopping tends to stay strong.
On or after Christmas Day, retail demand for several product categories throughout the holiday season is at its peak. For instance, the day after Christmas in 2021 saw a rise in "jewelry" search interest. Furniture searches continue to gain popularity far into January.
Extend your holiday marketing plan through New Year's Day to attract consumers who could utilize gift cards, the exchange of recently acquired presents, or make extra purchases connected to gifts they have already received. Set aside funds to maintain marketing after Christmas Day and use previous results to determine whether to raise funds to take advantage of rising demand.
Retailers need to plan carefully every year if they want to benefit from last-minute holiday purchasing trends. Because of this year's rising consumer demand and challenging retail conditions, it's even more critical for marketers to lay the proper groundwork for a bell-ringing Yuletide season.
What are consumers seeking during this time? Deals. Almost the previous two years, searches on mobile for "Christmas" and "clearance" have increased a lot. Is there a better method to get rid of extra inventory than by having a year-end sale? Win customers by offering shoppers irresistible discounts that are competitive.
The marathon's last section is about to start. Keep running, help your customer, and cross the finish line with them as they enter the new year.