Customer service is at the core of customer experience and has arguably seen more change and elevated importance over the past years than any other business function. Yet while disruptions still abound, service's trajectory, like those of other departments, is uncertain. 
Service organizations are at the forefront of strategic shifts across industries. Leaders are preparing for continued momentum as well as future disruptions during an era of both heightened customer expectations and uncertain economic conditions.
Salesforce released the fifth edition of its State of Service report that shares insights from over 8,000 customer service professionals worldwide, which includes decision-makers, agents, frontline service workers, and service professionals. The report uncovers the trends, priorities, and challenges defining their profession.
Connection Is the Heart of Service
With an increasingly visible and important role in the success of their broader businesses, it's critical for service teams to understand the qualities that will set them apart from the competition. Now more than ever, empathy is a cornerstone of superior, differentiated customer service, but it's also elusive. In fact, 73% of customers expect companies to understand their unique needs and expectations, yet 56% say most companies treat them like numbers.
Recognizing that customer experience does not start and end with customer support cases is key to providing the personalized, empathetic brand engagement customers expect. As such, agents require information from a customer's entire journey — from marketing touchpoints to ecommerce activity to sales interactions — in order to buck the trend of disconnected experiences. Sixty percent of customers say it generally feels like they're communicating with separate departments, not one company, and 66% often have to repeat or re-explain information to different representatives.
Personalized, empathetic, and connected service is not the only thing customers seek today: They also expect speedy resolutions to their issues. 83% of customers expect to interact with someone immediately upon contact, and 83% expect to resolve complex problems through one person.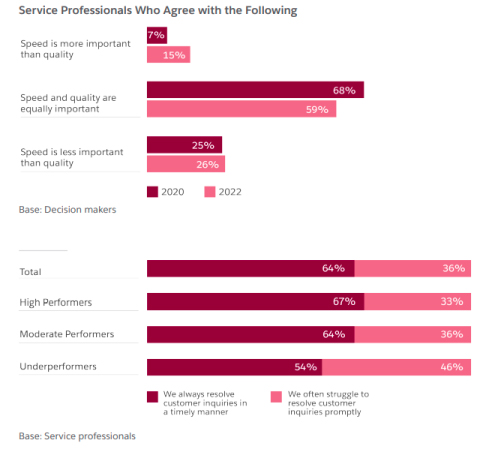 Digital Engagement Becomes the Norm
The increased use of digital service channels has not dissipated since the previous State of Service survey from early in the pandemic. Despite economic reopenings, the use of digital channels such as social media and customer portals has not backtracked, while use of additional channels like mobile apps, online chat/live support, and video support have seen substantial upticks. Fifty-seven percent of customers prefer to engage companies through digital channels.
Self-service, a notable tool in the pursuit of case deflection during a time of efficiency initiatives, remains a popular win-win for service organizations seeking cost savings and customers seeking quick resolutions. Fifty-nine percent of customers prefer self-service tools for simple questions/issues.
The humble telephone, despite having decreased in customer service organization adoption since 2020, remains the most used customer service channel today, reflecting the fact that some issues are best handled live and through a familiar medium. Eighty-one percent of service professionals say the phone is a preferred channel for complex issues — up from 76% in 2020. 
Service's Relationship with IT Evolves
Given the rising importance of digital channels, breaking down of data silos, and agent empowerment to meet rising customer expectations, one might assume that partnerships between service and IT departments are strengthening. However, while serviceIT partnerships remain commonplace, such technology decision-making arrangements are on the decline. Today, over one-third (37%) of organizations say IT is the sole decision maker, compared to 25% in 2020, and the share of service organizations cutting IT out of such processes entirely, while small, has more than doubled to 13%. The growing divide between service and IT departments may not be a positive development, according to the nearly half (49%) of teams that maintain such partnerships.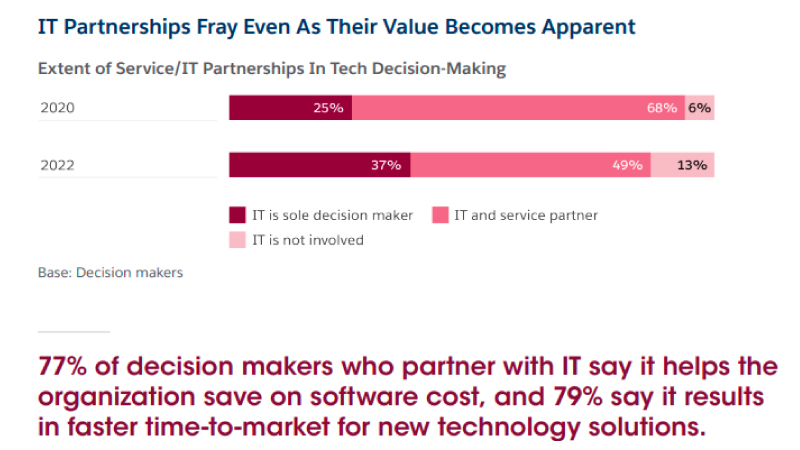 Customer Service Extends to the Doorstep 
According to frontline service workers, their experiences and capabilities are reaching parity with those of their colleagues in the contact center. Nine in 10 frontline service workers are satisfied with the timeliness, accessibility, and accuracy of the information they have in the field, the agility their technology enables, and the overall level of service they can provide. 
Yet obstacles remain on the field service technology front, particularly as organizations turn to contractors to scale their offerings. An average of 33% of frontline service workforces are comprised of contractors, and 80% of decision makers say adequately equipping them is a challenge. 
A nod to the fact that delivering excellent field service requires specialized capabilities, the adoption of field service management software (FSM) is high across performance levels. Yet highperforming field service organizations are more likely to report major benefits, like productivity increases, from FSM use, begging the question of whether all organizations are maximizing the return on their investments or enabling frontline service workers with necessary training.
Labor Dynamics Put Focus on Agent Experience
Call it the Great Resignation, the Great Reshuffle, or any other term that's defined the labor market's recent upheaval — service organizations have not been immune.
Service professionals report an average turnover rate of 19% over the past year. 
Eighty-five percent of decision makers agree there is a direct link between employee experience and customer experience. As such, there have been a slew of employee experience initiatives at service organizations since the pandemic took hold, perhaps because of the downstream impacts on customer loyalty, retention, and more.
Flexible schedules, wellness benefits, and career development improvements are the most popular perks for employees, but struggles remain.
54% of service professionals say management views customer service as a revenue generator, rather than a business cost.
Also known as the VP of service, this individual is hyperfocused on customer needs by driving cross-functional alignment, identifying new post-sale customer journey strategies, and leveraging data and technology to improve customer outcomes and increase efficiency. 
Just over one-third (35%) of service organizations have C-level representation, with VPs representing the top service employee at an additional 29% of organizations. But with service's rising prominence as a driving force of business outcomes, those numbers are primed to grow. Eighty-eight percent of service professionals without a chief customer officer believe such a role would provide major or moderate benefit.
If you liked reading this, you might like our other stories
Taking the Self-Service Route
BORIS, a Logistical Nightmare?