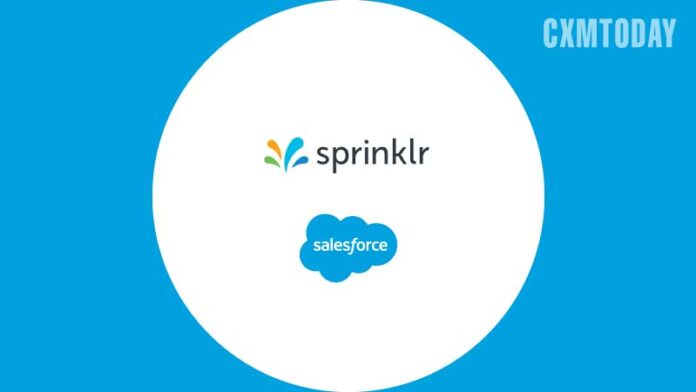 There are a lot of acronyms out there for the technology and processes that brands use to manage the most important aspect of their business – their customers.
Two of the most common – customer experience management (CXM) and customer relationship management (CRM) encompass a wide range of technologies and expertise. While related, for many of the world's largest companies, CXM and CRM operate in silos.  
With rapidly changing customer expectations, this is simply not sustainable. 
So what happens when the global leader in Unified-CXM and the global leader in CRM come together? 
"Connecting with customers across the digital platforms they choose is critical for businesses digitally transforming," said Amy Gorman, Vice President of ISV Sales, Salesforce. "We are thrilled to be working with Sprinklr to help companies create a unified view of their customers."
Unifying CXM and CRM
Salesforce is the provider of CRM – or managing leads and interactions with the customer within a business. CRM is primarily focused on helping brands develop and manage relationships internally – making information about every customer interaction available to anyone at your company who might need it – primarily sales and marketing teams. 
Sprinklr is the global leader in Unified-CXM – or managing how customers are engaging (experiencing) a brand via external channels. This includes listening to brand-relevant conversations across the internet and creating content and engaging on platforms like social media. 
The Sprinklr unified-CXM platform pulls in petabytes of structured and unstructured data from customers' engagements on 30+ external channels from phone systems, chat apps, social media platforms, review sites, customer service platforms, and many more. Powered by AI, Sprinklr actively interprets all that data and provides insights to the company on measuring and improving customer experience. Sprinklr also provides the only unified platform for brands to create advertising and organic (unpaid) content to engage with customers across external channels like social media.
Our team has been working directly with Salesforce since 2017 to improve our integrations continuously. With the expanded partnership announced – and working with strategic go-to-market (GTM) partners like Accenture – we can help organizations unify CXM and CRM and provide a truly complete view of the customer. 
Together, Sprinklr and Salesforce enable customers to:
Connect unstructured, unsolicited, real-time social data to the customer data platform (CDP)

Build better social intelligence into marketing, product development and care processes

Shorten the distance between the end consumer and brands

Extract maximum value from the investments in technology platforms
Global GTM Strategy
With this partnership, Salesforce and Sprinklr will work together with Accenture to identify mutual accounts and bring combined solutions to the market for global enterprise customers.
"At Accenture, we are being asked more and more how to bring technology together – and how to structure organizations more effectively – to streamline technology deployments, maximize ROI, and deliver results both internally and externally," said Robert Harles, managing director and global lead social media & emerging channels, Accenture Song. "Accenture Song is on the leading edge of harnessing the ongoing technology revolution with its deep understanding of customers and enterprises to create new growth frontiers and opportunities. Our expanded relationship with Sprinklr and Salesforce will help our shared customers to continually collect data, extract insights, and act quickly to deliver exceptional modern experiences." 
Sprinklr Senior Vice President of Global Alliances Doug Balut made it clear that "Sprinklr has been helping enterprises gain visibility into customer support issues and contact info through our integration to Salesforce for more than five years. Now the integration has grown into a partnership." 
Previously, our shared customers could leverage Sprinklr and Salesforce platforms through integrations. Moving forward, the companies and their field sellers will actively partner to help the world's largest enterprises adopt a unified approach to CXM and CRM to provide better customer experiences and improved results for the business. Balut continues, "Sprinklr is looking forward to teaming with Salesforce and our partners like Accenture to help more enterprises eliminate operational inefficiencies, reduce costs, and improve customer experiences." 
Social Media Publishing, Listening, and Engagement
Large enterprises face unique challenges in the scope and scale of engagement across social media channels in global markets, across languages, and with different regulatory requirements. Sprinklr's social media solutions have been designed to work with the world's most iconic brands to help ensure every customer conversation on 30+ digital channels is on schedule, on-brand, and on target. 
With this partnership, Sprinklr is also positioned to support enterprise customers looking to transition from Salesforce Social Studio – which is approaching end of life. Salesforce customers can easily manage social media through the Sprinklr Unified-CXM platform as part of an integrated CXM and CRM strategy.