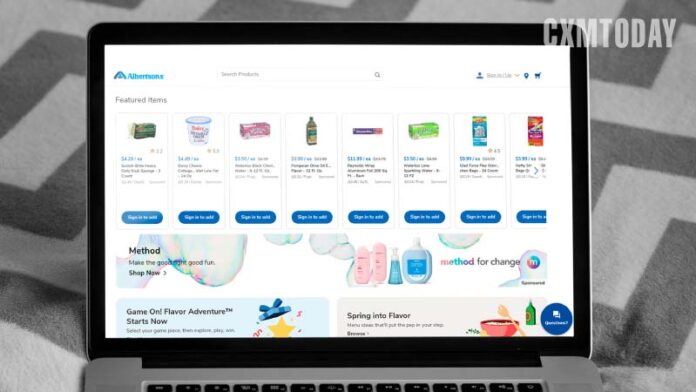 Partnership with PowerReviews brings rating system to 11 retail grocery banners
Albertsons Cos. have gone live with consumer-generated product ratings and reviews on the retail websites of 11 of its supermarket banners.
Chicago-based PowerReviews said that the launch of its system on such grocery websites as Albertsons, Safeway, Vons, Jewel-Osco and Shaw's enables those customers — for the first time — to browse and interact with authentic product ratings and reviews.
According to PowerReviews, 90% of online grocery shoppers read ratings and reviews at least occasionally. 
Through the partnership, PowerReviews provides ratings and reviews technology and services to Albertsons, including the ability for brands to syndicate their user-generated content to related product pages on Boise, Idaho-based grocer's sites to provide a consistent shopper experience. PowerReviews noted that its ratings/reviews solution helps businesses gather and share more and better user content, display it for maximum conversion impact, and benchmark and improve product experiences.
For its 2021 fiscal year ended Feb. 26, Albertsons Cos. saw digital sales rise 5%, marking the growth of 263% on a two-year stack. Coresight Research's 2022 US Online Grocery Survey found that, of more than 1,100 adults polled, 7% had purchased groceries online with Albertsons/Safeway within the past 12 months.
"Customer-generated ratings and reviews empower purchase decisions," Jill Pavlovich, senior vice president of digital customer experience at Albertsons Cos., said. "We're proud to be one of the first grocers to offer this authentic conversation with our shoppers about their favorite products."
According to The PowerReviews Meeting Grocery and CPG Shopper Digital Expectations in the Post Pandemic Era study, based on responses from 11,162 grocery shoppers nationwide polled in February 2022, 90% of online grocery shoppers read ratings and reviews at least occasionally, up from 82% in 2021. Furthermore, 50% of shoppers indicated they're more likely to click through to the product page if ratings and reviews are highlighted when browsing for a specific product before navigating to the product page.
PowerReviews' research also revealed that 81% of in-store grocery shoppers are at least somewhat interested in being able to access ratings and reviews content, and 29% will call or text a friend or family member for opinions on products.
"Ratings and reviews have become such a significant factor in buyer decision-making that shoppers choose where they buy from based on the availability of this content," according to Mark Dillon, CEO of PowerReviews. "Albertsons Cos. has an established history of introducing technology to improve the customer experience, and we are excited and proud to work together to enhance their customers' online shopping experience."
The nation's second-largest supermarket operator, Albertsons Cos. overall operates 2,276 food and drug stores in 34 states and the District of Columbia under such banners as Albertsons, Safeway, Vons, Jewel-Osco, Shaw's, Acme, Tom Thumb, Randalls, United Supermarkets, Pavilions, Star Market, Haggen, Carrs, Kings Food Markets and Balducci's Food Lovers Market.