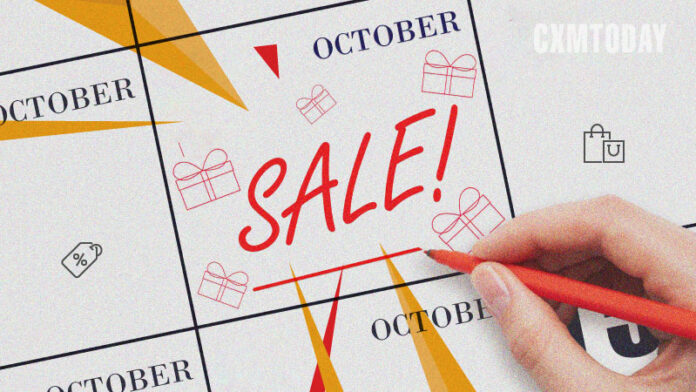 Consumers will be relying on credit cards, their savings and heavy discounts in what is shaping up to be an uncertain season for retailers.
Consumers kept spending in October, helping lift retail sales nearly 6% year over year in the segments covered by Retail Dive, according to a report from the US Department of Commerce. Shoppers "set aside concerns about inflation and many got a jump start on the holiday season," according to a note on the numbers from the National Retail Federation.
In fact, inflation showed some signs of easing last month, and that impacted shopping for discretionary goods, according to Morning Consult.
"This is another welcome sign that the substantial hits to purchasing power that we saw over the summer in Morning Consult's Consumer Purchasing Power Barometer may be fading, which bodes well for the upcoming holiday shopping season," Scott Brave, Morning Consult's head of economic analytics, said in a statement.
Experts warned that many shoppers are turning to credit cards and their savings to fund their holiday budgets, and that's not sustainable. But their resilience is also helped by continued strong employment numbers, according to the NRF and others.
"With employment and wages growing and shoppers accessing accumulated savings, we expect the trend to continue," NRF Chief Economist Jack Kleinhenz said in a statement. "Early holiday deals that enticed customers appear to underlie the October numbers and more promotions will be seen in November and December, which are historically the big holiday shopping months."
Black Friday is still around the corner, though several retailers, including Amazon, Target and others held early sales in hopes of capturing the attention of still-wary consumers. That didn't really garner many extra sales in October, as the healthy year-over-year rise represents a decline in volume, according to GlobalData research.
"While the discounting likely helped sales somewhat, it clearly hasn't acted as a major stimulant for consumers," GlobalData Managing Director Neil Saunders said in emailed comments. "If this pattern holds for the remainder of the holiday season, retailers may end up giving away a lot of margin simply to generate meagre gains. This will have a chilling impact on the bottom line."
Apparel sales rebounded for a while this year as events resumed and more people returned to the office, but the segment saw sales rise just 2.5% in October, according to the government's numbers. The question remains whether the holidays will serve as another excuse to update wardrobes.