Making the most of the holiday shopping surge means planning for inventory demands and increased contact center call traffics. But there is a unique opportunity to meet customers with special deals and convert them to loyalists

After a two-year break due to COVID-19, the much-anticipated holiday shopping season is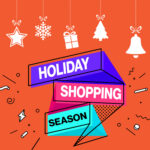 soon to begin, and things are finally returning to normal. However, the rise in energy prices, interest rates, rents, and utility bills have negatively impacted consumers' purchasing power, resulting in behavioral changes. Most consumers find it challenging to stick to their old preferences with rising inflation.
According to Salesforce 2022 Cyber Week figures, overall, 2022 global online sales hit an all-time high of $281 billion, up 2% compared to 2021, and $68 billion in the US, up 9% compared to 2021. 
Retailers are refocusing their strategies to survive through the most competitive and profitable time of the year. Because consumers are more deliberate while making purchases, impulse buying is less common. Maintaining profit margins is also impacted by the present rate of inflation.
Numerator's 2022 Holiday Preview finds that nearly nine out of ten (89%) consumers anticipate inflation to affect their holiday shopping in 2022. Nearly half (59%) expect the impact to be moderate or significant, while 15 million Americans (15%) still determine if they will purchase gifts.
How are retailers thriving with frugal shoppers? 
Planning for Inventory
The catalog must showcase the right products for the season since physical goods are the bread and butter for any ecommerce business. Nike is the perfect example to learn from.
Some apparel arrived late and some early for the sports retailer, post which it tried to cleaver out the excess. Nike's gross margin decline was double the projection—it went down 220 basis points to 44.3% thanks to elevated freight costs and higher markdowns to clear out inventory, which was up 44% total over last year.
Make this year's shopping list based on what you've learned. Think about stocking certain products again this year if they proved popular last year.
Plan Promotions
The fact that people's living costs determine their spending habits is an understatement. It's not surprising to see consumers quickly shift budgets toward necessities. In this case, discounts are an essential choice for some brands. To preserve their reputation as a premium brand, some retailers would instead provide free shipping to reduce costs. For instance, Walmart offered a year of its paid Walmart+ membership for $49, or roughly half the price, to new members for a promotion from November 1 to 3. Walmart tied the discount to its November holiday sale, which the retailer has dubbed "Black Friday Deals for Days." On Walmart's earnings call, executives noted that Walmart+ memberships continue to grow, though they did not specify a number.
Focus on New Consumers
Gartner's latest research shows that 75% of consumers expect fewer discounts than last year. It can be a good time to surprise and give the customer a reason to make a new purchase during the holiday season. FedEx, for instance, prepared for a moderate peak season in terms of demand and has the space to onboard new customers during the holidays, according to Brie Carere, the company's executive vice president and chief customer officer. 
Carere said she thinks consumers will shop later in the holiday season this year to take advantage of sales amid inflationary pressures, falling in line with UPS' expectations. This means offering fast delivery times for last-minute gifts will be highly important.
But shippers are balancing consumer expectations with inflation's effects on their operations. The slower, or deferred, delivery services FedEx offers are already seeing more interest; as a result, Carere said. Some good home-delivery services could make them come back.
It all revolves around time. Likely, those who wait until the last week will only care about getting the most excellent deal. However, it is still a good moment to offer free delivery on the anticipated date or start pointing customers toward physical stores.
The ability to supply the goods when the consumer wants them is another aspect that affects customer loyalty and trust.
An Online Presence
Did you know that 54% of shoppers utilized five or more channels to shop over a two-day holiday period last year? It's a perfect example of consumer behavior. People can recognize the ideal gift when they see it. They effortlessly shop both online and offline, letting their instincts lead them, and they frequently look for inspiration by comparing products from various categories at once. 
Similar to the lines mentioned above, Kohl's latest campaign feels indicative of the messaging and media strategies retailers adapt as they try to win over exhausted consumers wrestling with inflation. The department store chain tested a new interactive add-on for TikTok's TopView advertising format that prompts users to shake their phone to reveal a surprise deal around Black Friday, with a spotlight on the retailer's recently expanded Sephora partnership. In December, the campaign will introduce a custom Branded Effect to the ByteDance-owned app that lets users highlight Kohl's Cash in their content. 
As people continue to combine their inspiration, browsing, and shopping moments, marketers now have even more touchpoints they can use to draw customers.
Conclusion
The fourth quarter is the year's busiest and most important for retail and eCommerce, particularly the holiday shopping season. Retailers must take every precaution to set up their enterprises to benefit from this seasonal demand.